(MPI) – Minister Nguyen Chi Dung had a meeting with the Vietnam – Japan Open Innovation Network (VJOIN) in Tokyo, Japan on November 23rd, 2021.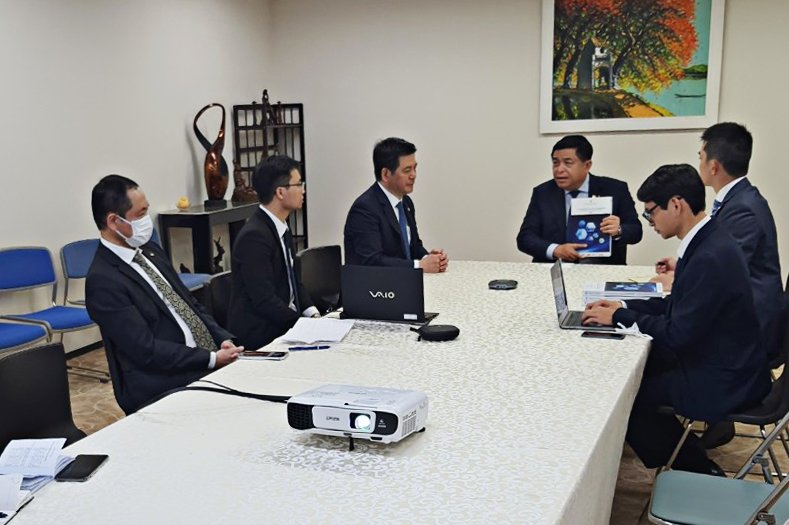 Photo: MPI
The VJOIN was established with 06 members in the Executive Committee, 50 official members and currently nearly 500 people connecting and participating in the network. Two major activities of the network are sharing knowledge training through the Vietnam Summit in Japan 2021 and building technological, scientific and technical frameworks for the Vietnamese in Japan.
Besides, a publication has been released lately, consisting of 35 articles on such fields as health, environment, materials by Vietnamese experts and scientists working at renowned universities and research institutes in Japan. As stated by the representative of VJOIN, although VJOIN's activities are still limited and not fully financially autonomous, VJOIN will try to build a detailed development mechanism in the future and connect, exchange with innovative businesses in Vietnam.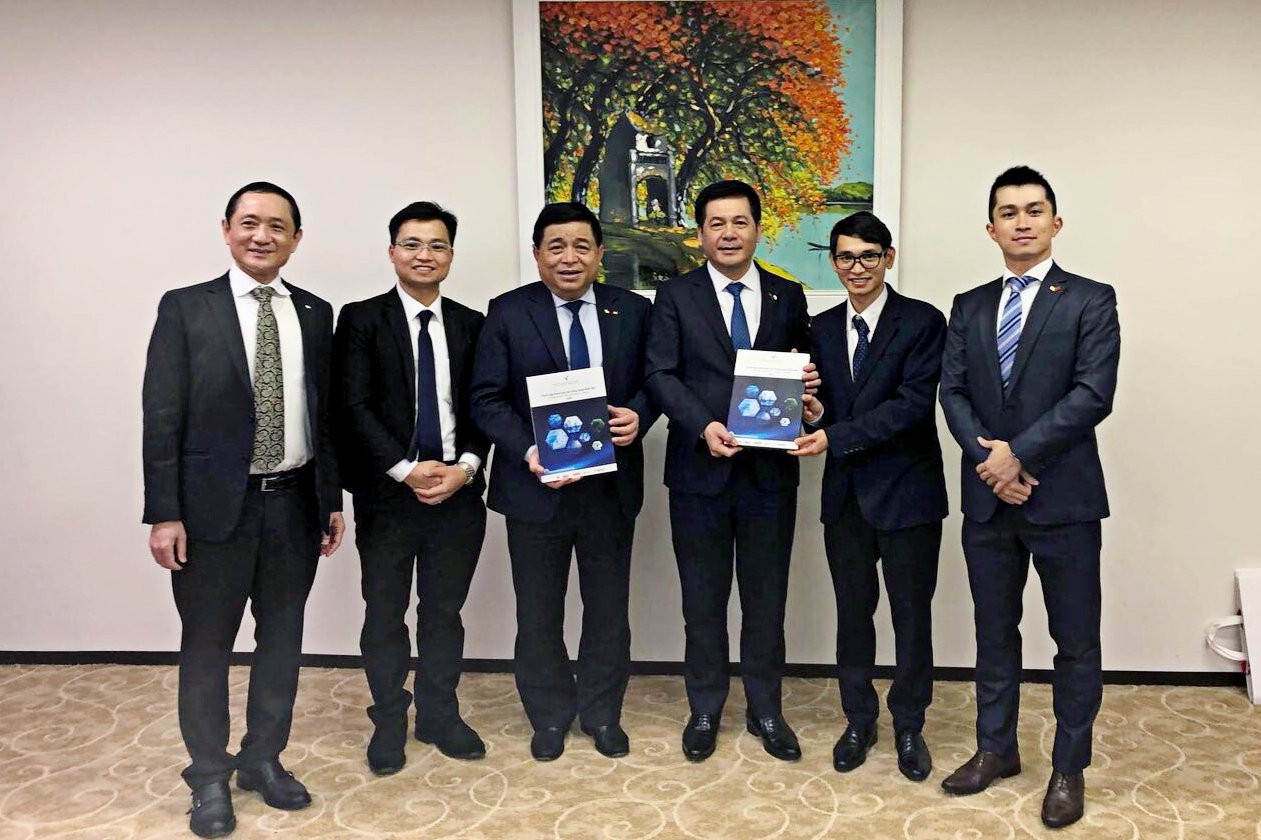 MPI Minister Nguyen Chi Dung (third from left) and MoIT Minister Nguyen Hong Dien (third from right) receive the Anthology of Japanese Science and Technology. Photo: MPI
Minister Nguyen Chi Dung spoke highly of the VJOIN's efforts, enthusiasm and active activities and said that he always paid attention to the activities of Vietnam Innovation Network (VIN) worldwide. Currently, the VIN has gathered nearly 1,000 experts and talents worldwide and established six VIN networks around the world.
It is also anticipated that the VJOIN would accelerate its activities to effectively and practically develop, turning resources into final products. The VJOIN is expected to review their operation to gather more experts and scientists that work at famous universities and research institutes, bringing high efficiency for the VJOIN's activities. Minister Dung also suggested that the VJOIN actively participate in the operation and activities of the National Innovation Center (NIC) with five keys: smart production, smart cities, digital communication, cyber-security and environmental technology, towards the goals of catching up, moving forward and going beyond.
How Vietnamese enterprises and supporting industries could develop and participate in the supply chain and high technology of Japan should be prioritized, emphasized Minister Nguyen Chi Dung. "It is essential to gather experts to fastest approach the market, master technology and reach new heights. Meanwhile, we should support domestic startups, promote scientific research, cooperation and design technology products so that Vietnam can have "Made by Vietnam" products."
VJOIN should aim their development on a worldwide scale, since it will create a general platform that enables all global technologies to join hands, as well as foreign and Vietnamese experts to update and connect with each other. At the meantime, Hitachi Company and Siemens Company have installed their digital experience center at NIC, while supporting start-uppers and the start-up ecosystem to create and transform technology.
Moreover, the Ministry of Planning and Investment is deploying a program to support enterprises in digital transformation for the 2021-2025 period, with the goals to reach 100% of Vietnamese enterprises to be well aware of digital transformation by 2025; at least 100,000 enterprises to receive supports from the Program, at least 100 of which would become successful examples in digital transformation. The Minister expected the VJOIN would be active in helping the process./.Bao Linh
Ministry of Planning and Investment